Numark V7
The Turntable Evolved
Numark presents V7, the turntable for today's DJ. Employing critically acclaimed technologies and designs introduced by the Numark-Serato partnership the produced in NS7, V7 continues to break new ground. This motorized-turntable software controller delivers unparalleled feel and unprecedented power in a single-platter digital-DJ controller. You can pair V7 with your favorite mixer, so your setup is truly your own. V7: the next evolution of the turntable.
Analog turntablists will feel right at home because V7 features a motorized turntable platter with real vinyl on a real slipmat. But V7 isn't just about feel. It's about ultra-precise software performance. V7 talks to your Mac or PC more than ten times faster than other MIDI controllers, so latency is simply history. Plus, V7 has mouse-free song navigation controls so you'll enjoy instant access to any track in your library without touching the computer. 24-bit audio, premium faders, knobs, and buttons, and onboard effects controls round out this revolutionary DJ device. Let's dig a little deeper and look at why V7 is your next deck.
FEEL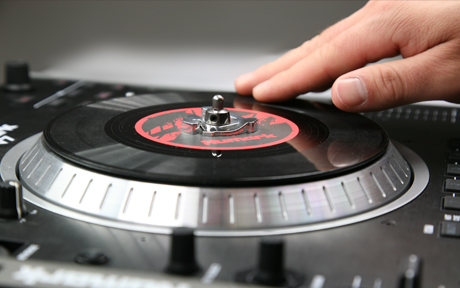 Forget your experiences with other software controllers. V7 has a motorized, high-torque aluminum turntable platter with motor mechanics taken directly from our award-winning TTX turntables. Choose between modern and classic torque settings and customize V7's feel to the way you like to perform.
As you push the buttons, move the faders, and twist the knobs, you'll notice that V7 is packed with stiff, precise controls for an unquestionably premium feel. And V7 is housed in a rugged, heavy-gauge, industrial-strength metal casing that's ready for the tortures of travel.
CONTROL
V7 and your Mac or PC communicate over a standard USB cable at more than ten times standard MIDI resolution. This innovative communication technique, which we pioneered with NS7, yields extremely precise control. You get exactly what you put into V7 – no lag; no latency.
There's nothing like dropping the needle on a record for quickly locating a point in the track. We took that idea and developed a modern take on it with Strip Search, the virtual needle-drop touch strip. You can locate any point in the track using the on-screen waveform and Strip Search.
PERFORM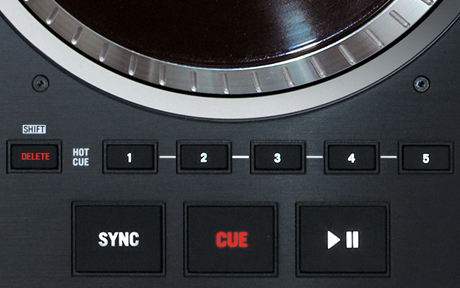 Youcan instantly recall five different cue points using V7's dedicated triggers. And if you're coming from Serato's Scratch LIVE software, ITCH can load your cue points for seamless transition.
V7 has powerful, yet intuitive loop controls for creative remixing. Creating automatic smart loops of any length is a breeze, and you can double, halve, and shift at the touch of a button.
And what if you want to add delay or a flanger? No problem. V7 has built-in effects controls so you'll have everything you need to manipulate, modify, and alter.
MOUSE-FREE
Forget the mouse. Forget the keyboard. V7 renders software perfectly simple to operate, with its click knob and large, backlit buttons. You'll spend less time looking at the screen and more time performing thanks to the information displayed on V7.
AUDIO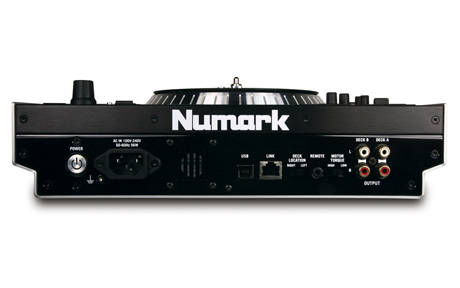 V7 isn't just a control device. Like any other turntable, V7 plays audio. In fact, like other turntables, you can use V7 without a mixer. Its 24-bit audio circuitry is built on a minimized audio signal path. What that means to your music is that V7 is sonically invisible. No added coloration here – just tight, punchy audio.
With natural vinyl turntable feel, ultra-precise, no-lag performance, pristine sound, mouse-free software control, and the rock-solid design you demand, the turntable has truly evolved. This is V7. Only from Numark.