Numark NS7
Cutting Edge DJ System
What is NS7?
NS7 is a cutting-edge DJ system. It seamlessly combines Serato ITCH music-mixing and management software on your Mac or PC with premium performance hardware to create the future of DJ performance.
How did we get here? Why software? Time for a history lesson.
Two turntables and a mixer.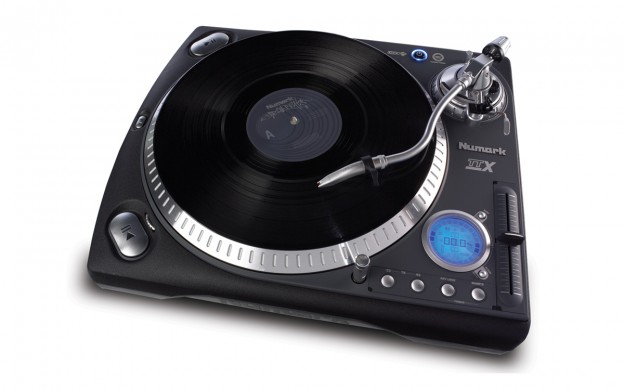 Turntablism is the art of manipulating sounds and creating music using vinyl record turntables and a mixer. We all know the iconic image of the DJ touching and moving the records, stylus, and mixer to control the sound.
The feel of your hands on vinyl. The push and pull against the turntables' motors. The smooth glide of the faders. The stiff motion of the knobs on the mixer. Nothing can simulate the feel of the original DJ tools, but one of the biggest problems DJs deal with is having to carry around hundreds of pounds of gear.
Face it: having to wheel in two turntables and a mixer in a coffin, case after case of records, speakers, amplifiers, cables, stands… it's not fun. Then you have to set it all up, run cables, test levels, organize your records. How much of the time associated with DJing can you actually spend DJing?
Decks go digital.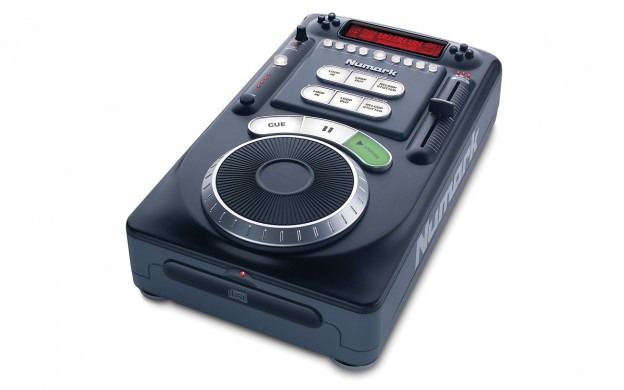 As CDs became more popular in the 1990s, DJ equipment evolved similarly. Thanks to their lighter weight and smaller size, DJs could considerably lighten their load by switching from vinyl to CD. Numark and other manufacturers introduced CD turntables, such as AXIS 9 and CDX, which give DJs varying degrees of vinyl-turntable feel and the ability to play CDs. As MP3s gained popularity, DJ CD players followed suit, now enabling DJs to carry hundreds of tracks on a single CD. Rather than carrying hundreds of records or CDs, the MP3 DJ could now bring a single book of MP3 discs and play for hours.
MIDI, computers, and software.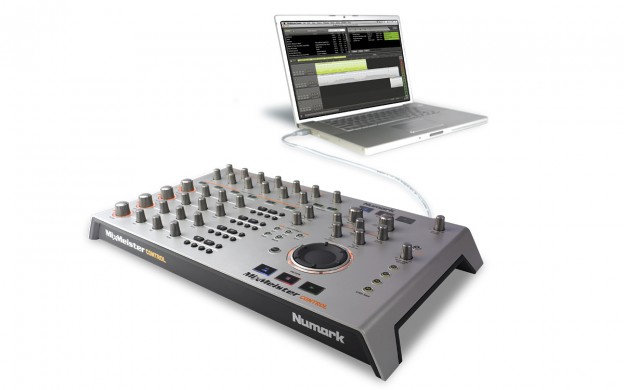 Musical Instrument Digital Interface (MIDI) is a globally standard language used throughout the musical-instrument industry since 1982. It enables electronic musical instruments such as keyboard controllers, computers, and other electronic equipment to communicate with and control each other. MIDI does not transmit audio, it transmits "event messages" such as the pitch and intensity of musical notes to play, control signals for parameters such as volume, vibrato and panning, cues, and clock signals to set the tempo.
Using the MIDI standard, software developers have created computer programs for DJs to be able to mix and perform with digital music files such as MP3s, AACs, and wavs. The computer is an incredibly powerful tool and even out-of-date computing dinosaurs have massive processing power when compared with CD players and other digital DJ devices… plus they can store your entire library of music in one source. With a computer, you can carry zero records or discs, and still have the flexibility to load music on the fly from a CD, DVD, USB stick or hard drive, and an analog audio source.
Because virtually all DJ software complies with MIDI, DJs can control most actions such as playing, cueing, EQing, loading tracks, searching within tracks, creating cue points and loops, and more using an external MIDI hardware controller.
Controllers for DJs.
For years, keyboardists have had the lion's share of controllers because using a keyboard controller with a sound module enabled them to access all kinds of synthesizer and sampled sounds from their trusty piano-style layout. When DJs first began experimenting with software, they either used their mouse and keyboard for control – not a satisfying performance experience by any stretch of the imagination – or they built their own MIDI controllers, requiring extensive know-how and lengthy programming to make the system work together.
Thankfully, Numark lead the charge with the first software controller designed for DJs. As they have evolved, DJ controllers have evolved to more and more resemble the traditional dual-deck turntable setup. Most controllers have familiar control placement, jog/shuttle wheels, and even a mixer section with a crossfader and line faders. Numark offers the most comprehensive selection of software controllers, including TOTAL CONTROL, STEALTH CONTROL, and MIXMEISTER CONROL.
Audio interface.

With software and a MIDI controller, half of the performance puzzle is solved. But how do you get high-quality audio out of your computer? And how do you cue in headphones or mix in a microphone?
Audio interfaces are external devices that have been used in the recording world for years as ways to get all of the instruments or microphones into recording software. With a few tweaks for the way DJs work, Numark and other manufacturers have devised audio interfaces specifically for DJs, such as DJ|iO, which contains system and headphone outputs, mic inputs, and powerful control software for optimizing audio performance.
USB.

An advancement that really helped move the future of DJing forward has been USB. It's easy to use, standardized, built into virtually every computer worldwide, and cost-effective. Numark has lead the development of transmitting MIDI over USB for DJ devices, so no interface is needed to connect a USB-MIDI or USB-audio device to most computers. In fact, because USB is so standardized, most Numark USB equipment works "plug and play," meaning that it simply works. You plug it in and your computer instantly recognizes it. There's no lengthy driver installation or configuration to make the controller and computer work together.
USB can carry much more information over a USB cable than MIDI connections do through a standard MIDI cable. Since MIDI is just tiny control messages, Numark is able to also fit CD-quality audio on the same data stream with MIDI control messages. So with a single USB cable, the computer, controller, and audio system can send and receive all of the audio and MIDI information. An example of this is OMNI CONTROL, a combination software controller and audio interface in one unit.
Digital vinyl systems.
As working with software has become more and more commonplace among the DJ community, many DJs missed the feel of their vinyl records. Let's face it – the portability of a controller that fits in a backpack requires a tradeoff in feel. To offer DJs the feel of vinyl with the power and flexibility of the computer, Numark introduced VIRTUAL VINYL, a system that enables DJs to use their turntables and mixer for the feel they prefer, but with timecode vinyl records and an interface to the computer. Using the timecode vinyl, DJs can control the accompanying software and their digital music files.

One of the most popular digital vinyl systems is Serato Scratch LIVE. It works in much the same way as VIRTUAL VINYL and when Serato wanted to develop the next generation of their software, they reached out to Numark to develop hardware for their system. Serato found that while DJs like the feel of a digital vinyl system, it had a few weaknesses. Needles and vinyl can wear down and skip. The system is still large, complicated, and bulky, and despite the turntable control, DJs still had to use their mouse and keyboard for certain controls within the software.
The Serato ITCH system, featuring NS7.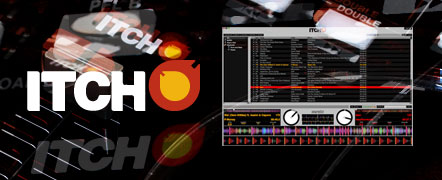 Working in partnership with Numark, Serato set out to solve all of these concerns with ITCH. ITCH is a complete hardware and software system, based on the Scratch LIVE platform, but designed to be the next standard in DJ performance.
Numark and Serato worked closely together to address all of the potential concerns that a DJ might have: traditional feel, system simplicity, precision control, high audio quality, and professional appearance.
NS7 builds on all of Numark and Serato's experience in DJ gear. It employs Numark's TTX turntable motors (the highest-torque motor in the world) and the torque is adjustable for DJs who prefer the feel of other, lighter decks. On top of those motors are aluminum platters, genuine slipmats, real vinyl records, and 45 RPM adapters. The mixers section has Numark's top-of-the-line CP PRO and D-TYPE faders, stiff, rubberized knobs, switches, and buttons, and the entire setup is housed in industrial, heavy steel.
A single USB cable connects NS7 to the computer, carrying control and audio information. Setting up is as simple as plugging in one cable, placing your laptop on NS7's built-in laptop stand, and connecting to the PA system. That's it. No vinyl wear, no skipping needles.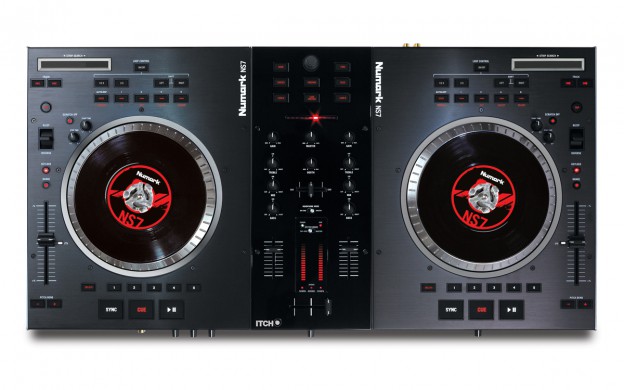 NS7 uses a high-resolution version of MIDI that Numark and Serato developed to send MIDI data at more than ten times the standard rate. That means that the NS7 platters are more than ten times more sensitive and accurate than standard MIDI controllers. Yet, because it is MIDI compliant, NS7 can work with virtually all MIDI software and hardware.
NS7 has a brilliant, clean audio system with 24-bit, better-than-CD input and output quality. It has professional XLR and RCA connections, 1/8" and 1/4" headphone jacks, and even an analog audio-through input that works even when the computer isn't connected so multiple DJs can share an NS7 and keep the music playing while they switch computers.
NS7's appearance is powerful. It looks premium yet professional, luxurious yet practical. Its classic black-on-black visuals are at home in any stage, club, or studio environment, and its clean, single-cable setup means no tangled cable spaghetti.
Wrapping up.
NS7 is the culmination of Numark's decades of working with and listening to DJs. While reading about it and watching video of it can feed your practical side, we strongly encourage you to visit your Numark dealer and try one for yourself and feel what all the buzz is about.
Learn more about NS7 at its website and its main page.