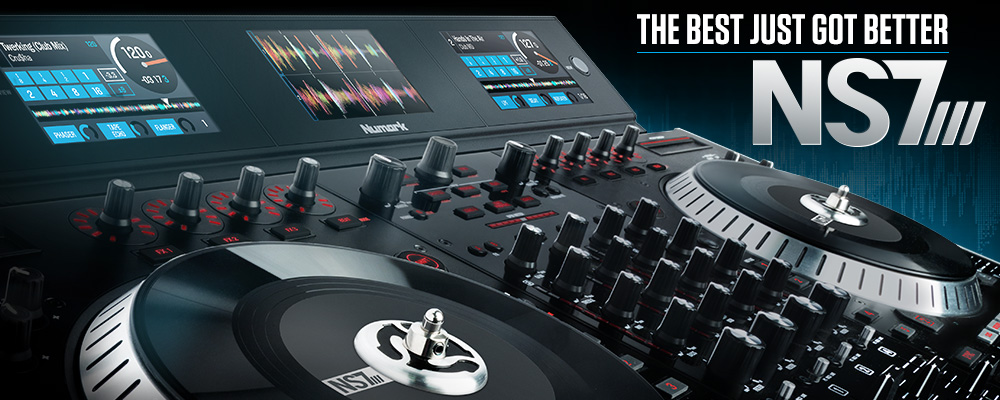 NS7III—The Best Hands-on Controller Money Can Buy. Period.
Our flagship NS7III controller is a premier four-deck controller for Serato DJ. Featuring three high-resolution color screens with a stackable waveform display and an interactive control surface, the NS7III forges a kinetic—no, make that radioactive— connection between the audience and your music.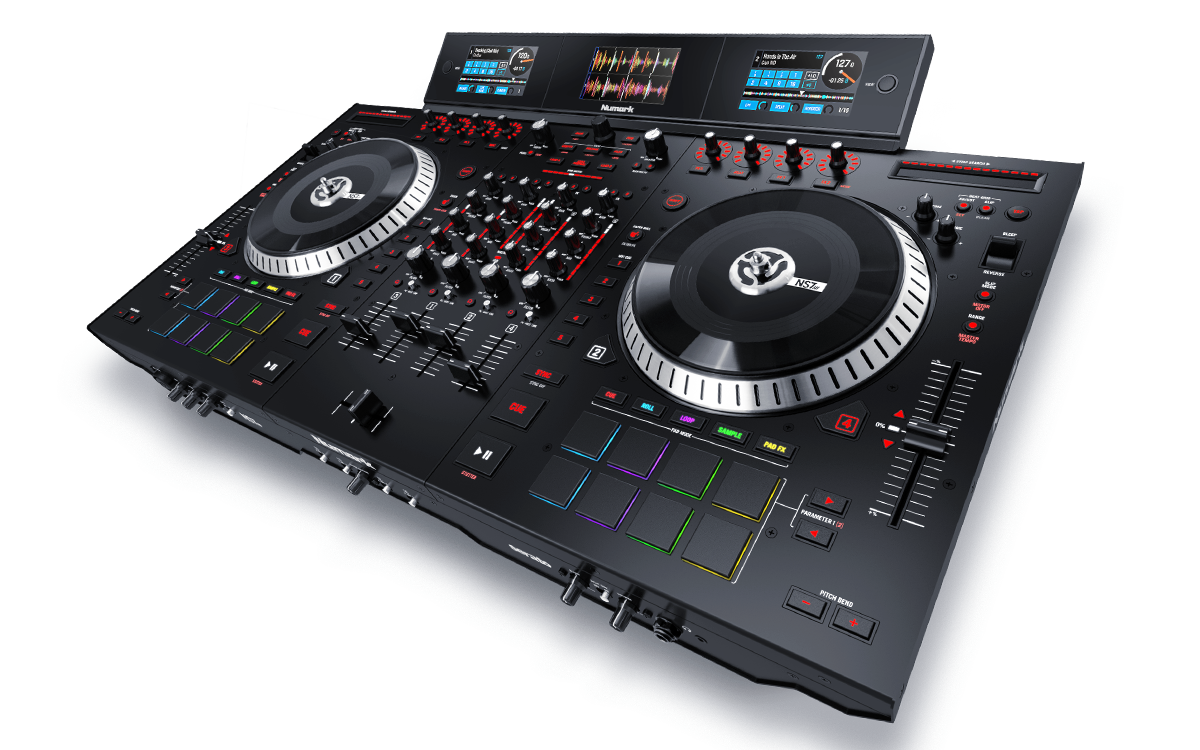 The NS7III is the ONLY motorized controller on the market today that gives the dedicated turntablist a true and authentic mixing and spinning experience. With our exclusive 3 full color LCD screens, we're dedicated to allowing you to focus 100% of you attention on your mix, your controller, your audience, and your craft. While our competitors might still be chasing that dream, Numark has arrived!
This controller offers features and performance that sets it way above conventional DJ controllers, even other companies' so-called "top-of the line" units. This is the Big Daddy of controllers. If you're serious about your performance, this is where you want to be.
Professional Features, Professional Performance
Don't settle for less. You demand no-compromise performance from your equipment and the NS7III delivers—like nothing else out there. Building upon our acclaimed and wildly-popular NS7II, the NS7III continues Numark's "best of both worlds" approach by fusing the power of a Serato DJ-managed digital music library with the highly-desired response of a professional DJ turntable. Then the NS7III really raises the bar with real time visual feedback of Serato DJ via three vibrant, 4.3-inch full-color screens.
Two of the screens provide moving waveforms, playhead, deck, and FX status. The third central screen gives you a dedicated view of your track library. But this is really great—this third central screen can also be switched to display stacked parallel waveforms for complete beat matching control of your active programs. Now, you can manage all your critical performance elements with the source laptop out of sight or closed altogether.

In the "Numark-is-such-a-cool-company" category: The NS7III's 3-screen array is available separately for your NS7II. Yes! You can upgrade your NS7II to NS7III capability!
Create, Innovate, Amaze
There's no limit to what you can do with the NS7III. There are 29 capacitive touch-sensitive knobs for filter, gain, EQ and effects. You can adjust the sound to be exactly the way you need it, for any setting, any situation. There are 16 multi-function backlit MPC® performance pads from Akai Professional so you can add loops, launch samples, and control hot cues to your performance. Use the multi-function touch strip for dynamic FX control and track search operation.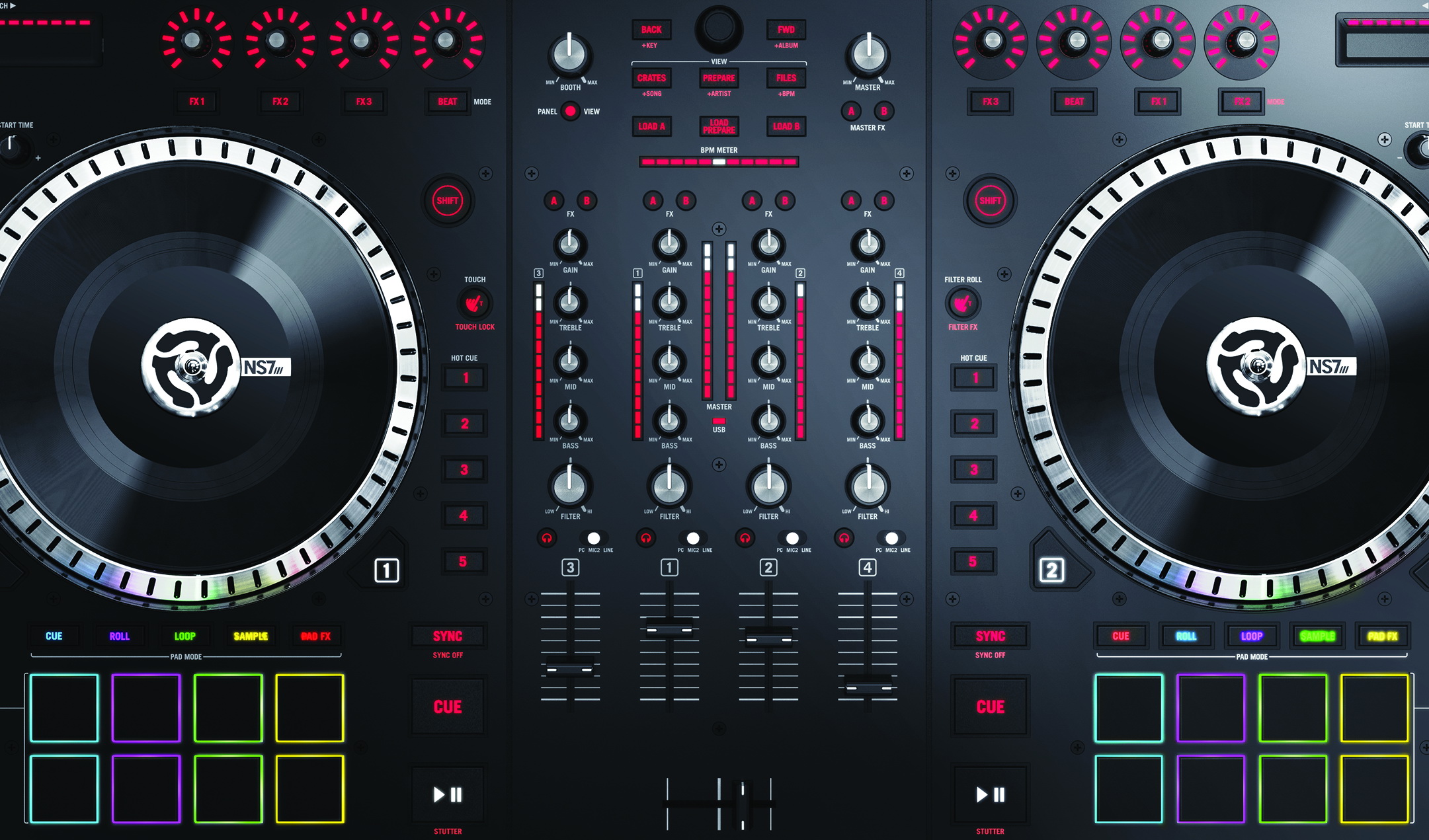 Mix to your heart's content—you can connect up to four (4) audio sources and mix CD players, turntables, MP3 players or any other external source. Channels 1 & 2 have both phono and line-level inputs; channels 3 & 4 are line-only. Best of all, the NS7III's mixer operates standalone, either with or without your computer! The NS7III works with you to make your performance effortless. It never gets in your way or slows you down.
Turns on a Dime!
With your NS7III, you have the best of both worlds. The art of mixing was born on vinyl, and with the NS7III that's where it remains. Our dual 7-inch motorized turntables have an ultra-high resolution MIDI with 3600 ticks per revolution, so you can dial in exactly the effect you want. Exactly. Plus, there are genuine vinyl discs and real felt slipmats for that perfect tactile feel and control.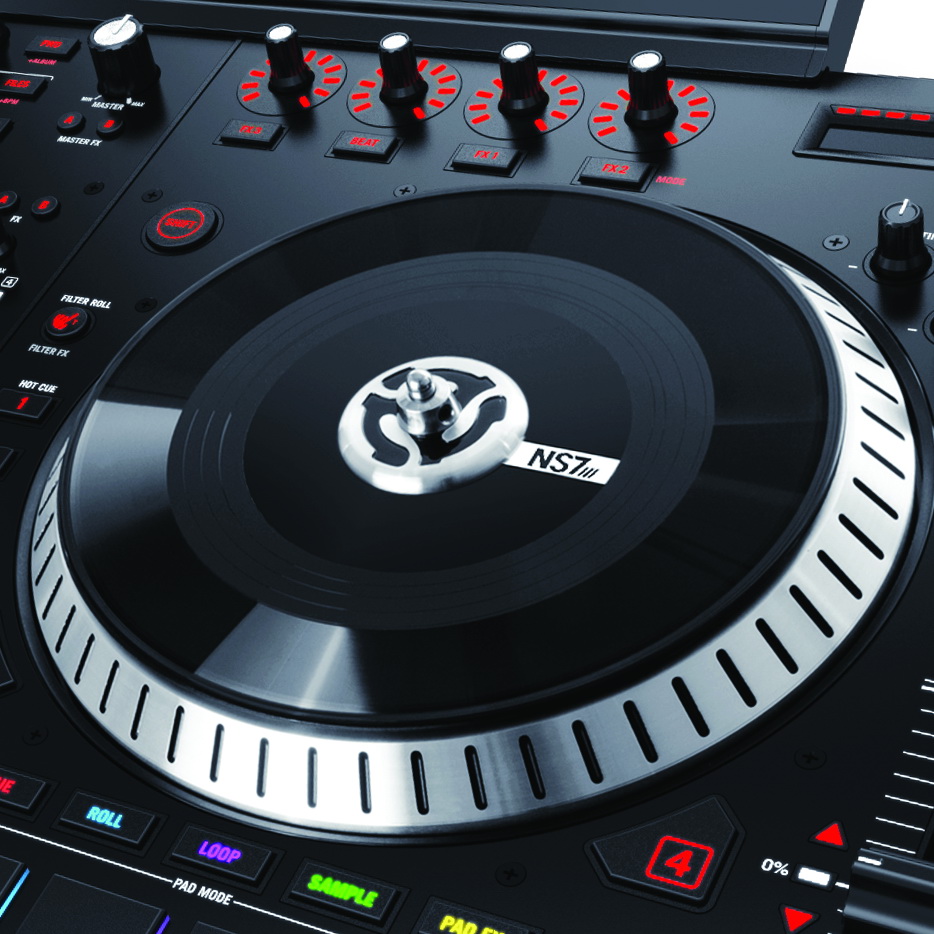 The platters have a high and low torque switch that changes the resistance of the platters. We know that some DJs like their platters a little "looser" to make it easier to scratch and others prefer them a little firmer, to emulate the feel of a turntable more closely. Either way, the choice is yours—as it should be.
When it comes to feel, response, and high-performance mixing, it doesn't get any better. NS7III gives you the unmatched precision and feel of true analog turntables combined with all of the conveniences of your digital music library. You'll feel comfortable with the NS7III right way!
Total Serato Control
The NS7III includes the full version of Serato® DJ software. Get your hands on the most creative tool for Serato DJ available. NS7III gives you the power to unlock never-before-seen features of Serato DJ through new and innovative hardware controls, including Filter Roll, Filter FX, and Touch FX, which all allow you to control Serato DJ simply by touching an element on NS7III's control surface. NS7III empowers you with spontaneous performance capability that feels so natural you'll wonder where you end and the music begin.
Includes Prime Loops Remix Tool Kit and TOOLROOM Artist Packs
Jumpstart your inspiration with 6 sample packs from Prime Loops including over 380 premium instrumental loops, drum kits, one-shots, and more. A $200 value.
Remix with the sounds of the world's premier electronic music label. Mixtrack Pro 3 gives you exclusive access to download studio-grade audio stems from the Toolroom Records catalog, allowing you the freedom to layer, tweak and chop today's most relevant sonic textures.

Crushing the Competition
Down to the finest detail, the NS7III is in a category all by itself with features and capabilities that other DJ controllers simply don't have:
Made of Metal

If you want to go pro, don't go plastic. With its rugged metal body, NS7III crushes the competition, literally. It's built like a tank.

Dedicated Hot Cue Controls

For the performing DJ, hot cues are simply too important to bury. With dedicated buttons to set and recall, NS7III places comprehensive hot cue control at your fingertips, no digging required.

3-Way Touch Filter Knobs

NS7III's filter knobs give you unprecedented capabilities. Each filter has three modes: Filter alone, Filter FX, and Filter Roll.

Touch Effects & EQ Knobs

A first-of-its kind feature that revolutionizes modern DJ performance, NS7III's effects and EQ knobs are intelligent, responding instantaneously to your touch, giving you capabilities you haven't even imagined ... yet.

Filter Roll

One of the greatest effects you can imagine. By activating Filter Roll, the filter knobs become touch-sensitive and you control a high-/low-pass filter alongside a roll that increases with intensity the more you turn, giving you an instant energy-infusing way to get the crowd moving and leave them breathless. To leave the roll, simply let go of the knob; the filter remains until you've turned it back to zero.

Instant Frequency Kills

One tap of the Shift and Touch buttons and NS7III's traditional EQ knobs become touch-responsive. Kill the low. Kill the mid. Kill the high. Or kill the entire song, all with your fingertips. All four channels on NS7III feature touch-response EQ knobs, giving you instant on/off control for dynamic creative flourishes whenever inspiration strikes.

Filter FX

With one tap of the Filter FX button, each of NS7III's four filter knobs commands both its filter and an effect of your choice. Turning the knobs will engage a high-/low-pass filter plus the effect, and both the filter and effect increase or decrease in intensity as you turn the knob.

Revolutionary Effects Control

To add an effect, touch the knob. It's that easy. To adjust the effect, turn the knob. It's never been easier to interact with your mix. NS7III empowers you with spontaneous performance capability that feels so natural, you'll wonder where you end and the music begins. 12 Isotope effects to choose from, 2 effects banks per channel, 3 effects per bank, 6 effects simultaneously on any channel.

Real Velocity-Sensitive MPC Pads

For decades, Akai Professional's MPC pads have been the go-to for performance and production with an unmatched percussive feel and response. NS7III gives you expanded live performance capability with 16 MPC pads—each has classic MPC feel, plus they've been updated with RGB illumination, so you have instant visual feedback of what mode you're in.

Multi-Color RGB Technology

No guessing. No vague mono-color flashing. NS7III's 16 multi-color pads tell you exactly—and instantly—what mode you're in, so you can spend your time mixing instead of decoding.

Double-Mode Pads

Each of NS7III's pads comes equipped with dual-functionality via the Pad Mode buttons:

Cue:

Mode 1: Hot Cue — 8 saved cues
Mode 2: Hot Cue Auto-Loop — Instantly loop your hot cues.

Auto/Roll:

Mode 1: Auto-Loop — One action with instant access to loop size
Mode 2: Loop Roll — Combined with the MPC pads, loop rolls have never been more spontaneous.

Loop:

Mode 1: Loop Bank 1 — 1-4 saved loops and manual loop control
Mode 2: Loop Bank 2 — 5-8 saved loops and manual loop control

Sampler:

Mode 1: Sample Player — Redrumming has never felt better.
Mode 2: Sample Velocity Trigger — Adding velocity to your samples is easy and natural.

Slicer:

Mode 1: Slicer — Remash your track through replay of 8 slices in time.
Mode 2: Slicer Loop — Remash your loop through replay of 8 slices.

Start Time & Stop Time

NS7III's direct drive turntables let you start and stop tracks instantly, or you can use the new Start time and Stop Time controls. Another creative tool in your arsenal, this attention-grabbing feature lets you ramp up or ramp down the turntables, perfect for getting the the night started or bringing it to a classic close.

Full Onboard Song Navigation Control

Whether you have 1,000 songs or 10,000 songs, NS7III gives you total command over your music library with dedicated controls that keep your hands off the mouse and your mind in the mix.

Ergonomic Pitch Controls

Easily accessible, the Pitch Bend and Tempo controls are exactly where you need them to be with nothing in the way. You'll never graze a slider or button by accident with NS7III's fool-proof layout.

Pitch 0 LED

Mixing in the dark is easy. Every crucial function on NS7III gives you visual feedback, including the Tempo faders, which have a red LED at 0, so you can be 100% sure—instantly—when the fader is back to center.

Master FX

When you want crush, crash, sweep, or surge the entire mix, the Master FX button puts the power in your hands. Apply your effects across all four channels and hang on for the ride.

BPM Meter

With NS7III, beatmatching is visual, quick, and obvious. You never have to look at your computer again to match BPM.

Curve-Adjustable CP-Pro Crossfader

Surrounded with a healthy border of seamless and smooth metal, the replaceable CP-Pro crossfader lets you cut and crab with precision—there are no screws or seams to scrape your knuckles on.

Spring-Loaded Bleep Reverse

With NS7III, critical capabilities have dedicated controls—they're not buried and don't require you to use modifiers or spend time accessing submenus. The Bleep/Reverse switch is solid and spring-loaded, so it returns to center automatically.

Split Cue Headphones

No monitor? Blown monitor? No problem. Flip the Split Cue switch and your headphones are instantly split, the house mix in one ear, the cue mix in the other.
Evolved and Enhanced
NS7III picks up where NS7 left off, breaking the boundaries of modern mixing, giving you creative performance capabilities that have never existed before, and expanding upon NS7's dynamic design:
4 Deck Selectors

Over time, mixing becomes an instinctual experience driven mostly by muscle memory, so NS7III is designed with your intuition in mind. The four new deck selection buttons are large and located exactly where you need them to be. Combined with its multi-color and intelligent touch-response capabilities, NS7III's entire control surface makes mixing second-nature.

Enhanced Strip Search

Strip Search, Numark's exclusive virtual-needle-drop technology now includes a parallel string of bright red LEDs, so you can tell where the track is just by looking. In addition, unlike some imitations, the Strip Search touch strips are positioned intuitively, so you will never hit them accidentally.

2 XLR-1/4" Combo Mic Inputs

NS7III's main mic input has its own dedicated channel, so all four mixing channels are always available, never taken up by your mic. Plus, the second mic input can be assigned to any channel and switched on and off as needed.

External Device Inputs

Connect drum machines, keyboards, microphones, CDs, or even turntables. NS7III has all the inputs you need on the rear of the console.

Instant Beat Grid Control

Underlying the immense creative capabilities of NS7III are practical onboard controls to give your mix a solid foundation. The all-new Beat Grid buttons let you fine-tune your beat grid on the fly, so all of your effects, slices, and loops fire off perfectly.

2 Large Shift Buttons

All of your primary controls are easily accessible on NS7III, and when you need the second layer, two large shift buttons give you instant access from either deck. And they're positioned so you only hit them when you want to.

Enjoy the Views

Toggle through multiple views at the touch of a button. The new View button gives you full control over how Serato DJ is displayed on your screen as well as multiple options for effects and sample panel viewing.

Slip Mode

Slip Mode keeps the track moving but muted when you grab the record or start scratching. When you're done, the track will resume as if you'd never stopped it. Slip Mode combines with With NS7III's motorized platters and real vinyl discs to give you the ultimate modern platform for turntablism.

Low-Profile Spindle

The updated low profile center spindle adapter above each record prevents accidental knuckle grabs during rotation. Plus, it's fully customizable for your mixing style both in tightness and look—use your own 45.

Timeless Tape Markers

Some things can't be improved upon. Taking another cue from the classic turntable setup, NS7III features track indicators on both vinyl records to keep you visually locked on your cue points.
Serato is a registered trademark of Serato Audio Research