DDS80
Product Spotlight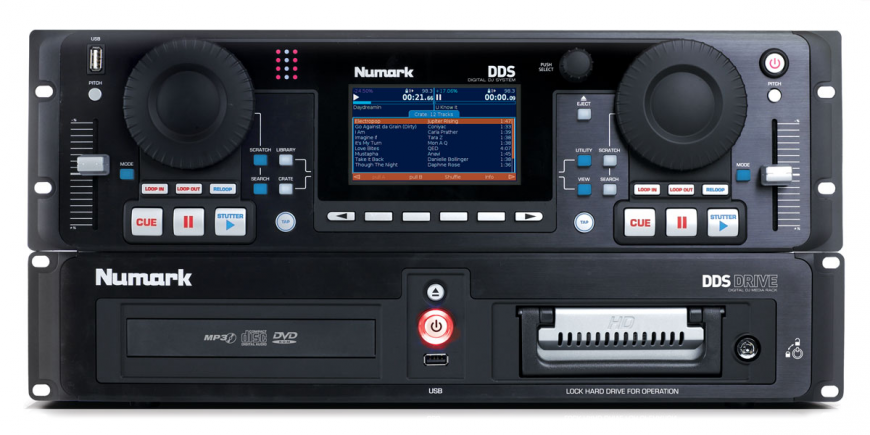 The World's Only Future-Proof CD Player
DDS80 solves a problem that many DJs today are faced with. Many DJs like the security of playing with CDs. They're stable, you can hold them in your hand. You can't erase a CD. You can't crash a CD. You can't corrupt a CD. But what if CD players go the way of the 8-track? Who wants to invest in a technology that has, at best, a limited future? DDS80 is the answer, blending a familiar professional DJ CD player with the capability to mix and match with new media formats and devices.
Everything you love about a CD player with everything you need for the future.
DDS80 is a CD player with convenient, plug-and-play USB ports for connection of media devices such as thumb and hard drives, iPods, and MP3 players. On top of that, DDS80 has a built-in 80GB removable and upgradeable hard drive that enbales storage of 10,000 songs, or more! You can rip your music straight from CD to the hard drive for the security of a backup, or use DDS80 to transition from CDs to hard drive, and never carry around 100 pounds of CDs again. It's up to you because DDS80 is flexible to work however you choose.
You manage DDS80's unique blend of media with a high-definition color screen, which shows Numark's intuitive Crate music-management software. Crate is built around the way you work with CDs or records, with two decks and virtual record crates. It's so easy to learn, you probably won't even have to read the manual!
A number of Numark DJ technologies are built-into DDS80 to give you total creative flexibility. Key Lock separates pitch and tempo, so you can shift tempo without moving pitch. You can move pitch all the way from -100% up to +25% and anywhere in-between. Beatkeeper™ seamlessly integrates your samples and loops and it has a tap-override function so you're always in control of tempo. You can play music from two devices simultaneously, including two songs from the same iPod at the same time! You can even scratch CDs, MP3s, WAVs, and AACs (unprotected) using the large jog wheels.
DDS80 gives you fast track access as a CD player, and when using the hard disk section, you can locate tracks even faster using text-search. You just type the first few letters of the artist, album, or track name, up pops your track. DDS80 fits in any standard 19-inch equipment-rack case. It takes up five spaces mounted together, or can be separated into a three-space controller and a two-space media rack. DDS80 is the CD player you've been searching for. It works the way you're accustomed to working, with the controls you like, playing the CDs you're used to. It ensures that no matter what type of new media the future holds, you'll be covered with DDS80's forward-looking hard drive and USB connections.