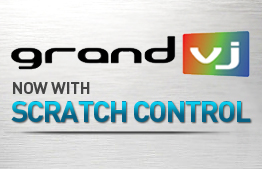 ArKaos GrandVJ is the finest video-mixing and live-performance software for VJs, DJs, musicians, events, and clubs.
VJs and other video performance artists will find ArKaos GrandVJ to be powerful software with intuitive controls and versatility to work seamlessly with existing systems. Based around a unique piano-keyboard layout, video clips map to piano keys for a familiar setup for musicians and easy control using an external MIDI keyboard controller (not included).
GrandVJ is a video mixer that can create and play video clips or video shows. Video content compliments audio performances by DJs, bands or any other type of event. In addition to its performance capabilities, GrandVJ is an excellent program for creating music videos from existing content or from scratch.
Arkaos is a household name among hardcore VJs. GrandVJ introduces the power of video mixing to DJs, musicians, bands, event-organizers, club and bar-owners and anyone else requiring dynamic video control. Whether it's for education, science, broadcasting or the arts, GrandVJ's intuitive design delivers the experience of a customized video performance like never before.
ArKaos GrandVJ sets a new reference for video software that's equally useful for VJs, musicians, and any other presentation professional.