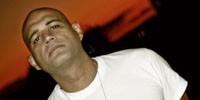 Osheen
Blinded Records Artist, DJ and Driving Force Behind Dance Music Culture...
Osheen, New England's own veteran DJ and producer is no stranger to the pop culture and electronica house music scene. He began his career in the early 1980s, dosing the dance floors of local clubs and rave events in the Northeast. When the rave phenomena hit in the early 1990s, he took his skills and signature sound of house music out to the masses and quickly became known as one of the premier dance music DJs throughout the U.S.
The demand kept growing for his talent as a DJ, leading way to the next logical and creative step: the creation of his own music and record label. Osheen now has numerous remix and original releases on major and independent record labels.