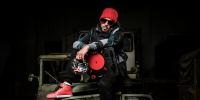 DJ Samy
DJ Samy is a turntablist, portablist, International DJ, video maker, entrepreneur and hip hop enthusiast.
DJ Samy turned on his first turntable in 2001 in France. He spent years playing as a resident DJ and performed alongside several artists such as Fatman Scoop, 50 Cent, DJ Whoo Kid, The Pharcyde, DJ Cut Kille. He held multiple residencies in France and performed in festivals in Morocco.
Today, DJ SAMY lives in Marseille and is the ambassador of the portablism culture in France. He recently launched a new project: « #Scratcheverywhere: Spreading the portablism culture worldwide ». His ambition is to inspire and unite more DJs globally to share the portablism culture and bring more ideas about the future of making music on the go!