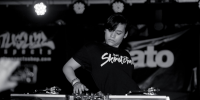 DJ Perly
DJ Perly is a female Puerto Rican Russian American Dj who plays Hip Hop, Breaks, House Music and practices the art of turntablism with a passion.
She has been one of the few females to compete in the NYC DMC DJ battles and won the 2016 NYC DMC regional battle, the first lady DJ to do so. She is also the first lady DJ to place as high as she did in a DMC USA National DJ final, taking second.
Perly has also competed in and has become a 3x Freestyle Monday's Dj Champion. Dj Perly is a current member of Almighty Skratcher Crew: NJ Chapter and is a former member of the first Latino rocking crew, The Bronx Boys/ Bronx Girls Rocking Crew. She can be found in record shops digging in the crates and on the streets cutting it up on her portable Numark turntable.