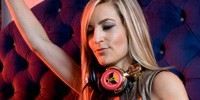 DJ Katarina
DJ KATarina is not only a V7 and NS7 DJ, she is one of the hottest upcoming female DJ's in Los Angeles. No stranger to the music business, she has over 10 years experience starting as a Music Supervisor for MTV - creating sounds for "The Real World" and other MTV shows. Coming from a family in the music business, her love for music started immediately.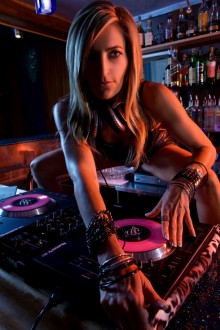 Her father was a radio DJ, her mother a singer, another a member of BTO, and her grandfather was inducted into the CAB Broadcast Hall of Fame for starting one of the most dynamically successful radio stations in all of Canada. Even at the age of 5 she was spinning for her family outside of Philadelphia. As soon as she was able, she moved to Los Angeles to pursue her passion for music and discovered the local club scene. She started promoting club nights, and experienced the sound of some of L.A.'s most skillful DJ's. As Hip Hop became popular, DJ KATarina was there listening and involved in the explosion as a part of a local Hip Hop dance team.
During this time, MTV started noticing her skillful music programming. Beyond MTV she was hired as a consultant for Ben Stiller and worked at E ! TV and MCA Soundtracks. Her music programming and DJ skills helped her to branch out and consult for radio, corporate events, fashion, hip hop fitness star, Milo Levell, Louis Van Amstel of "Dancing with the Stars", Equinox Fitness, and actress/ recording artist Traci Lords.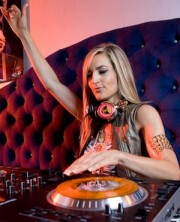 Once DJ KATarina discovered electronic music she has never looked back. She has consistently put her knowledge and expertise with electronic music genres to good use. She has been featured on several radio and internet shows, is a resident DJ at "Chicks with Decks", performed at Blue Velvet and other nightclubs.
Most recently, DJ KATarina was a headliner at the 2010 Sundance Film Festival and was the choice for the City of Quebec at the Santa Barbara Film Festival 2010. She is the exclusive DJ for Fluxus Brand with celebrity designer Jeffrey Sebelia and has rocked many fashion shows. In May 2010, DJ KATarina was featured on "Decks By The Beach" podcast sharing decks with Joshua Heath and Lars Behrenroth.
DJ KATarina has international appeal. Whether DJ KATarina is at a lounge spinning Funky, Tech House or at a club featuring Progressive, Hip House, Urban Club, or Electro Pop, the dance floor is sure to be packed!